The Bachelor of Science in Nursing program has a long outstanding history at the University in preparing women and men as professional nurses.
With a Bachelor of Science in Nursing (BSN) from Mount St. Joseph University, the student will be part of an interactive applied learning experience with faculty, students, and colleagues from other disciplines working together to solve complex health care problems. Nursing majors move through a rich variety of classes, labs and off-campus clinical experiences to become effective patient advocates and leaders in a variety of settings. The outstanding reputation of the Bachelor of Science in Nursing program at the Mount is built upon more than 85 years of experience.
The greatest strength of the Department of Nursing is the faculty who are highly qualified professionals dedicated to educating future nurses for the dynamic health care environment.
Program Facilities
Click below to view our Nursing Skills Lab and other facilities and equipment at MSJ.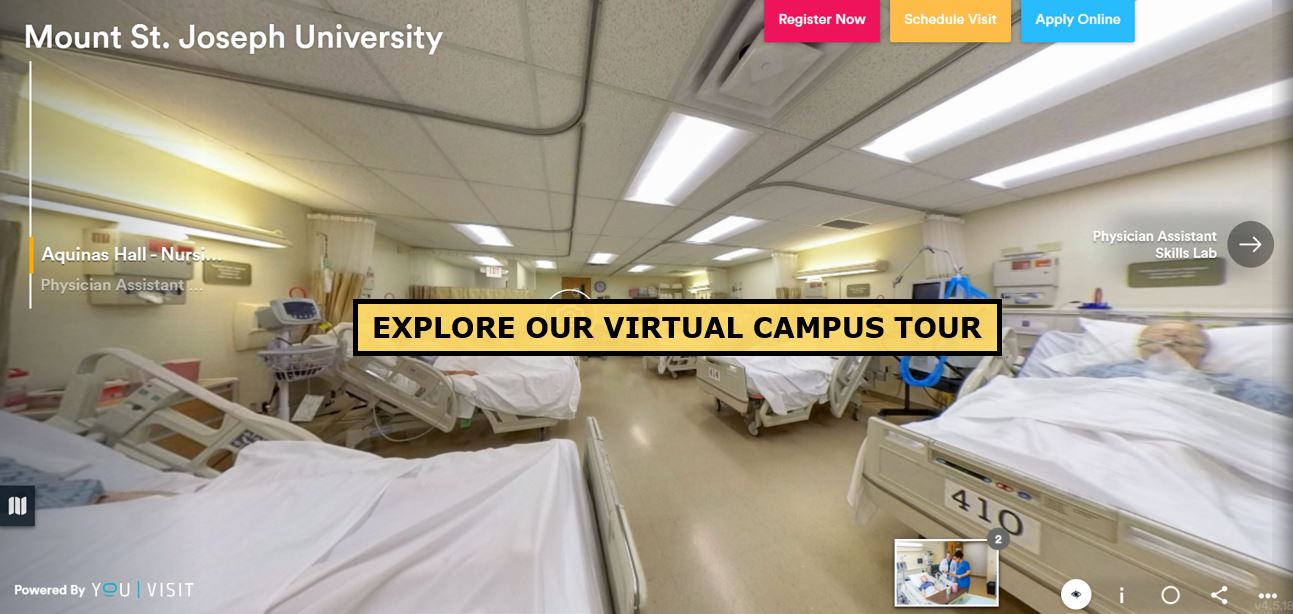 \
Featured Courses:
Students complete more than 60 credit hours in courses such as:
Family-Centered Pediatric Nursing
General and Inorganic Chemistry/Lab
Health Assessment Across the Lifespan/Lab
Health Promotion
Human Anatomy and Physiology
Medical Surgical Nursing
Pharmacology.
Program Outcomes:
Students will be exposed to learning in both the clinical area and the University's high tech skills lab and simulation center.
The BSN graduate will be prepared to:
Implement effective, culturally sensitive therapeutic interventions based up assessment data
Communicate effectively with individuals, families, groups, and populations
Employ critical thinking to make competent decisions
Develop caring relationships with clients from diverse populations
Apply principles of leadership and management while working in interdisciplinary teams
Exercise professional, legal, ethical, social and political responsibilities
Use information literacy to provide evidence-based care.
Career Potential:
Employment of registered nurses is projected to grow 15 percent from 2016 to 2026, much faster than the average for all occupations. Generally, registered nurses with a Bachelor of Science degree in nursing (BSN) will have better job prospects than those without one. Career choices for nurses include:
Critical care/intensive care
Management/administration
Maternal/newborn nursing
Pediatrics.
Hands-On Learning:
Co-op and service learning immerse students in the real world and provide rich opportunities for experiential learning and the application of skills and knowledge learned in the classroom. Students work under the supervision of a faculty member and an agency professional in a variety of non-profit and for-profit organizations and community partners.
Click here to learn more about the Mount's Pre-Licensure BSN Program Admission Requirements.
Like what you see? Learn more by coming to visit us.
Visit our financial aid page to learn your options for scholarships, grants, and loans.
---
Accreditations
Mount St. Joseph University is authorized to offer nursing degrees at the baccalaureate, masters and doctorate levels by the Ohio Department of Higher Education (ODHE) and the Higher Learning Commission (HLC).
The University receives its regional accreditation from:

     The Higher Learning Commission 
     230 South LaSalle Street, Suite 7-500
     Chicago, IL 60604
     800-621-7440  
To learn more, contact: Higher Learning Commission.
Copies of the University's accreditation can be obtained through the Office of the President.
The Bachelor of Science in Nursing and Master of Science in Nursing Magelin pre-licensure programs at Mount St. Joseph University are approved by the Ohio Board of Nursing (Certificate of Approval)* Ohio Board of Nursing 17 South High Street Suite 400 Columbus, Ohio 43215-7410 614-466-3947 FAX: 614-466-0388 http://www.nursing.ohio.gov/.
Click here to view State Boards of Nursing Licensure Requirements

The baccalaureate degree program in nursing, master's degree program in nursing, and Doctor of Nursing Practice program at Mount St. Joseph is accredited by the Commission on Collegiate Nursing Education(http://www.ccneaccreditation.org).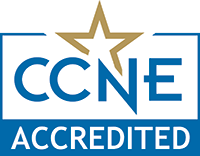 ---
Leadership


Additional Resources
2021-2022 Undergraduate Rate Sheet [PDF] (96 KB)
2020-2021 Undergraduate Rate Sheet [PDF] (69 KB)