Programs for teachers who want to teach reading using highly effective, research-based methods.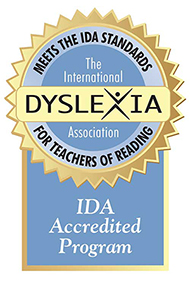 Program Options:
Ohio Reading Endorsement
Dyslexia Certificate
Master's Degree
In addition to Ohio, we are authorized to accept students for the online reading program from the following states: Alabama, Alaska, Arizona, Arkansas, California, Colorado, Connecticut, Florida, Georgia, Hawaii, Idaho, Illinois, Indiana, Iowa, Kansas, Louisiana, Maine, Maryland, Massachusetts, Michigan, Minnesota, Mississippi, Missouri, Montana, Nebraska, Nevada, New Hampshire, New Jersey, New Mexico, New York, North Dakota, Oklahoma, Oregon, Pennsylvania, Rhode Island, South Carolina, South Dakota, Tennessee, Texas, United States Virgin Islands, Utah, Vermont, Virginia, Washington, West Virginia and Wyoming.
Click below for an in-depth look at Reading Science at the Mount including Online Course Offerings
"I cannot give Dr. Murdoch and the Reading Science program enough praise! I am in my 10th year of teaching and the Reading Science program has completely changed my outlook on teaching reading. I have learned more through this program than in my 5-year undergraduate program and my 2-year MEd combined. I will be forever grateful for the inspiration and knowledge!"
-Scott, Intervention Specialist

Now accepting applications for the May, August and January cohorts.
Program curriculum is based on National Reading Panel report recommendations. Coursework includes LETRS (Language Essentials in Teaching Reading and Spelling) and Orton-Gillingham Multisensory Reading.
All reading science programs require a core set of courses (18 credit hours) that address current theories and best practices in teaching reading and literacy
For additional information, please contact the School of Education at 513-244-4812.