Mentees in the Connect Mentorship Program at Mount St. Joseph University can improve academic skills, social skills, and receive professional guidance from their peer mentor.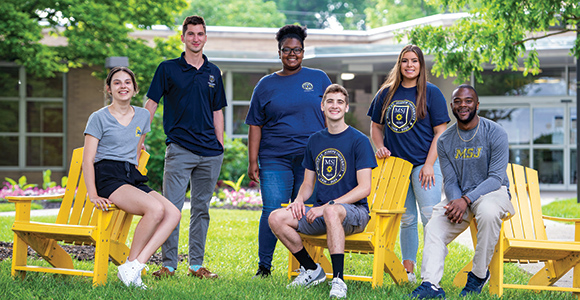 Now, students can connect with their peers at the Mount in an engaging and collaborative way to advance their skills and build relationships.
Mount St. Joseph University's Department of Diversity, Equity and Inclusion introduces the Connect Mentorship Program, to match students with experienced peer mentors who will help guide students throughout their MSJ experience to graduation and successful transition to life after college. This may include graduate school, the workforce, or military. 
"The purpose of the Connect Mentorship program is to heighten sense of belonging, enhance academic success, engage with peers, and create connections to the college community that go beyond the classroom," says Diversity, Equity, and Inclusion Coordinator, Sam Fowler.
Participant Benefits
Free peer mentoring and professional mentoring.
An understanding of the resources available to MSJ students.
The ability to demonstrate positive academic progress and skills.
An understanding of joining organizations.
Develop professional skills.
Become a mentor after 2 years in the program
Build relationships on campus  
Eligibility
All enrolled MSJ students are eligible to apply.
Join Our Community!
Visit the Connect Mentorship Program page here for participation requirements. In this program, you will find a breadth of community through your peers at the Mount. To learn more about the program, contact Dr. Rayshawn Eastman, Chief Diversity & Inclusion Officer/Title IX Coordinator at Rayshawn.Eastman@msj.edu
Interested in discussion surrounding Diversity, Equity, and Inclusion? Check out information on our Mosaic Center to get involved in the conversations to create meaningful change.