After thoughtful consideration, Mount St. Joseph University has implemented a COVID-19 Vaccine Requirement Policy.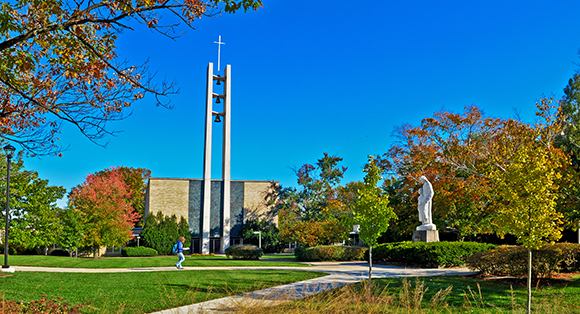 September 13, 2021
"Because all creatures are connected, each must be cherished with love
and respect. For all of us, as living creatures, are dependent on one another." 
-Pope Francis
Mount Students, Faculty, and Staff:
For over 100 years, the University has delivered on two solemn promises:  to provide students with a world-class education, and to do so in a safe, intellectually stimulating living-learning community. Despite the implementation of comprehensive health and safety protocols on the Mount's campus, the COVID-19 pandemic continues to threaten our ability to deliver on these promises.
Since classes started three weeks ago, 18 members of our Community have received a positive COVID-19 diagnosis.  Our students and colleagues with COVID-19 have been in our prayers while they have isolated and recovered from their illness.  Fortunately, to date, there have not been any reported hospitalizations. These positive cases produced the following results:
39 unvaccinated students being placed in quarantine (not permitted on campus for any reason) due to their direct exposure to individuals infected with COVID-19;
52 classes forced either to an entirely In*Sync virtual format or to a hybrid format (some students in person and some students In*Sync) to adhere to isolation and quarantine requirements; and  
3 athletic teams competing with significantly reduced rosters due to student-athletes in isolation or quarantine.
Notably, this level of illness and impact was felt by our Community prior to the start of campus-wide surveillance testing this week. 
University leadership has been closely monitoring these recent trends on campus.  Over the past few weeks, we have engaged with numerous students, faculty, and staff to listen to their perspectives about COVID-19 vaccinations as we have considered our options.  In spite of the quickly spreading Delta variant, rising infection rates in our region, University incentives to encourage students and employees to get vaccinated, and widely available vaccines – one of which has been fully approved by the FDA – our overall Community vaccination rate remains low.  This low vaccination rate has unquestionably impacted our operations, with necessary pivots to the delivery of course instruction and extracurricular activities in the first weeks of the semester that have already altered the Mount experience for a large number of our students.  It has become apparent that we must take action now to ensure that we are positioned to deliver on our promises to our students as we move forward.  
After thoughtful consideration, Mount St. Joseph University has implemented a COVID-19 Vaccine Requirement Policy that requires all current students and employees to be fully vaccinated and to submit their proof of vaccination to the University by December 15, 2021, unless they have obtained a University-approved exemption by making an exemption request prior to November 1, 2021. 
Failure to meet the December 15, 2021 deadline will not affect a student's enrollment status for the current 2021 fall semester. 
Unvaccinated students will be permitted to provisionally register for the 2022 spring semester, but any student who is not fully vaccinated by December 15, 2021 will be canceled from their 2022 spring semester classes.
For vaccines that require two doses, both doses must be completed by December 15, 2021.
The vaccine completion requirement by December 15, 2021 applies to all students and employees who must be present on campus at any time for their academic program requirements or job responsibilities.
The deadline for requesting an exemption to the vaccine requirement for current students and employees is November 1, 2021.   
We encourage all students and employees to review the University's complete COVID-19 Vaccine Requirement Policy and Frequently Asked Questions about the vaccine requirement for more information.  In the coming days, the Wellness Center will be contacting students with additional information, and students with questions can contact Wellness.Center@msj.edu.   Later today, the Office of Human Resources will be contacting all employees with additional information, and employees with questions can contact Human.Resources@msj.edu.     
The University is partnering with Mercy Health West to host a COVID-19 vaccination clinic on campus this fall, with the first vaccination dose provided on October 29th and the second dose provided on November 19th.  The Wellness Center will share registration information for the upcoming vaccination clinic with the entire Mount community in the near future.  In addition, the University will be continuing the previously announced Vax-a-Lion student vaccine incentive program through early October. 
The University's vaccine requirement for students and employees aligns with our Catholic identity and mission.  Appearing in a video, Pope Francis shared that "[g]etting vaccinated is a simple yet profound way to care for one another, especially the most vulnerable. I pray to God that each one of us can make his or her own small gesture of love." 
If there is one thing that we know to be true, it is that Mount Lions care deeply for one another.  By requiring each student and employee to make a small gesture of love by getting vaccinated, in the words of the Holy Father, we ensure a better future for all of us.  We need to do everything we can to continue to show our care and respect for one another, so we can deliver on our promises to our students for the Mount's next 100 years.
Let's Climb Higher, Together!  Go Lions!
Sincerely,
H. James Williams, Ph.D.
President