President Dr. H. James Williams welcomes students, faculty, and staff back to campus for the Fall semester and provides a COVID-19 vaccine update.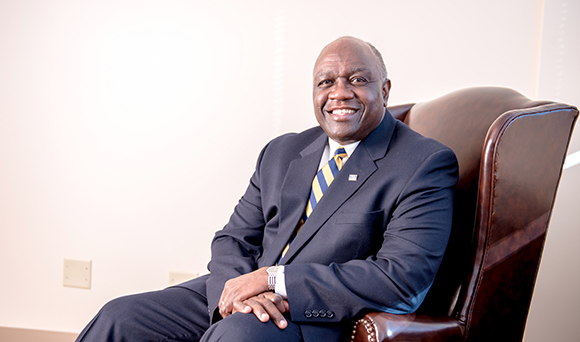 August 23, 2021
Students:
Welcome back to campus!  I cannot tell you how thrilling it is at the start of each year when I share these four simple words with you. This time, they have extra special meaning, given all that we have been through the past 18 months.
Our deeply committed faculty and staff have worked tirelessly to ensure that we are ready to provide you with the world-class educational and engagement opportunities that set the Mount student experience apart.  The Mount grounds look absolutely beautiful, our classrooms are ready, students have moved into Seton Residence Hall, Welcome Week is underway, and there is an immense amount of excitement and positive energy all around the campus!  Now that we are back together, our priorities are clear—take all necessary steps to stay together in-person on campus and provide opportunities to build relationships with one another.
Of course, COVID-19 remains "top of mind" for all of us.  The Delta variant is far more transmissible than the strain with which we dealt last year.  To better understand the differences, please visit CDC Delta Variant Information.  COVID-19 vaccines have greatly lowered transmission rates, reduced COVID-19 cases, and virtually eliminated serious illness and death among fully vaccinated persons.  This is why we continue to strongly recommend that all eligible members of our Community get vaccinated.
As part of the return to campus this fall, the Mount is requiring all students and employees to report their COVID-19 vaccination status.  This information is confidential and allows us to track the status of vaccinations among our Community, which will help guide future decisions.  If you have not done so, please email Wellness.Center@msj.edu and submit either proof of full vaccination or indicate that you are not vaccinated.
Once we "Climb Higher Together" to a Community vaccination rate of 80%, Mount leadership will reevaluate our current indoor masking requirement for all persons.  The MSJ COVID-19 Dashboard on myMount tracks the vaccination status reports of our Community.  As of August 20th, our employee vaccination rate is 72% and our student vaccination rate is 49%.  To encourage progress towards our goal of at least an 80% vaccination rate, we will be expanding our Vax-a-Lion student vaccine incentive program. You will be receiving an email from the Office of Student Affairs with program details.  
For students, the relationships that you develop at the Mount will remain with you professionally and personally throughout your lives.  I challenge all of you – whether you are an undergraduate or graduate student– to get involved in at least one student organization this year to connect with your peers outside of the classroom.  Attend a Mount athletic competition or student activity with your classmates.  Plan to take part in Homecoming events on October 16th and 17th.  If you find yourself facing academic challenges, seek assistance early by either contacting your faculty advisor or by obtaining guidance on available resources from the Office of Student Affairs.  The Mount provides you with endless opportunities and resources for fulfillment and success – it is up to you to make the most of them.  In doing so, you enrich your lives and our amazing Community.
Despite the challenges we continue to face, I am filled with joy and hope for this Academic Year.  I look forward to seeing all of you on campus very soon, as we Climb Higher Together!  Go Lions!
Sincerely,
James Williams, Ph.D.
President