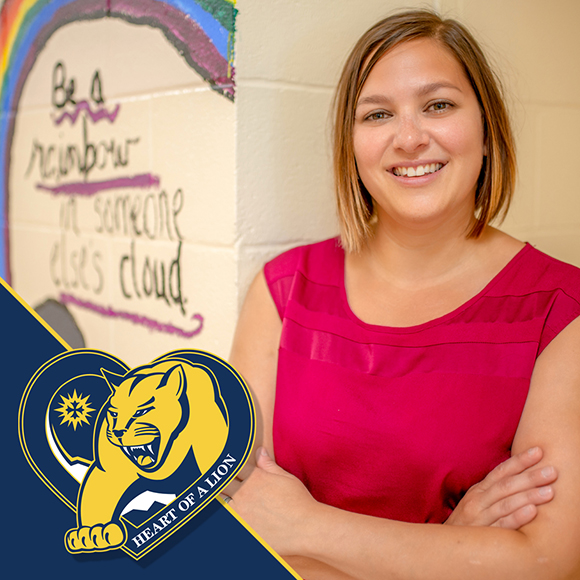 There was a time when Erin Henwood '19 thought a career in education was not for her. "I grew up watching my mother work as a teacher, so I was familiar with a teacher's life," she recalls. "But I wanted to see what else was out there."
A CLASS ACT
By Kathleen Cardwell '87
There was a time when Erin Henwood '19 thought a career in education was not for her. "I grew up watching my mother work as a teacher, so I was familiar with a teacher's life," she recalls. "But I wanted to see what else was out there."
Henwood would soon discover her passion for making a difference in the lives of children.
After earning her bachelor's degree in American Sign Language at the University of Cincinnati, she worked as a sign language interpreter for Cincinnati Public Schools for seven years. Henwood soon appreciated the close, personal interactions with the Deaf/Hard of Hearing students in the classroom.
"I was with the students throughout the day, getting to know them while also collaborating with their teachers
and the other professionals who supported them," says Henwood. "It was great to be a part of the students' educational development and overall growth." 
Before long, Henwood decided to pursue her master's degree in special education at the Mount. Not only did the Mount's TEAM-MSE program meet her needs for flexibility, it also prepared Henwood for her new role as an intervention specialist, where she is ready to continue discovering even more ways to be an advocate for students.
Even with the uncertainty that the COVID-19 pandemic brings to the education sector, she is thrilled to be starting the next phase of her career working with fourth and fifth grade students at North Elementary School in the Mt. Healthy City School District. Regardless of whether her work will be in-person or remote, Henwood knows that she is ready to adapt to ensure her students' needs are met.
"There are so many unknowns with the pandemic, and the health and safety of the students and the teachers is the most important factor," says Henwood. "I am ready to establish myself in this new role, to stay positive, to absorb, and to learn. And I look forward to finding ways to add my perspective to the work I do, and how to best contribute to each student's success."