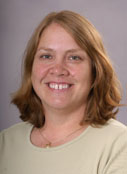 Computer Information Systems and Informatics Instructor
Department of Computer Information Systems
513-244-4822
.(JavaScript must be enabled to view this email address)
Degrees:
M.B.A., University of Cincinnati; B.S., University of Dayton
Biography:
Ms. Blink is an adjunct faculty for computer information systems and informatics courses. She holds an M.B.A. from the University of Cincinnati and a B.S. in Computer Science from the University of Dayton. Working as an adjunct faculty member affords Ms. Blink the opportunity to continue managing a software development and consulting career with the company that she co-founded.